DCAP
Dynamic and Control Analysis Package
DCAP is a no-frills, rational, fast multi-body software tool, designed for assessing space systems and devices. It is composed of a suite of fast, effective computer programs that provides the user with capability to model, simulate and analyse the dynamics of coupled rigid and flexible structural systems.
The DCAP dynamic formulation is based on a symbolic order(n) algorithm, which is extremely efficient for open loop topology system. This avoids the explicit computation of a system mass matrix and its inversion, and it results in a minimum-dimension formulation. A dedicated symbolic manipulation pre-processor is further used in the coding optimization in order to allow real-time simulations.
Relative motion between bodies is defined through "hinges". Each hinge allows from zero to six relative degrees of freedom, as it can be free, locked or constrained to pre-defined motion.
Applications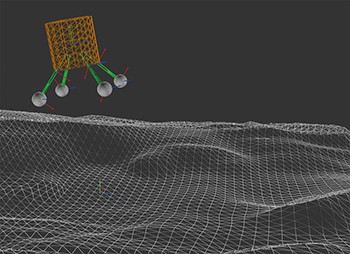 Solar panel deployment mechanism
Flexible antenna model
Robotic arms
Docking
Grappling
Space mechanisms
Flexible launcher model
Launcher lift-off phase
Launcher thrust vector control
Spacecraft attitude control
Spacecraft separation system
Landing scenario simulation
Control moment gyroscope
Reaction wheels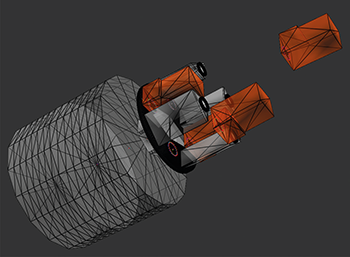 Key Features
Symbolic order(n) dynamic formulation
Rigid and flexible bodies
Analytic flexible beam model
Transitions of hinge DOF state
Variable body properties
Gravity gradient
Contact dynamics
Friction dynamics
Built-in space sensors and actuators
Non-linear devices
Graphical user interface
Graphical pre and post processing
Interfaces
Generation of the mode shapes for ASTOS
Coupling with Simulink® using DCAP GUI and MATLAB® scripts
Flexible body model from MSC NASTRAN®
Analysis
Linear and non-linear time domain simulations
Modal analysis
Visualization
Data driven modelling solution via GUI
Wavefront OBJ file for body rendering
2D plots
3D animation
Availability
Stand-alone software package or
Coupled with ASTOS: the whole multi-body configuration is performed via the ASTOS GUI, DCAP provides the flexible multi-body dynamics
Perpetual node locked or floating license
20 hours of remote support and
Software updates for one year included
3-days training in Stuttgart, Germany
Optional yearly maintenance renewal
DCAP is licensed by Thales Alenia Space
MATLAB is a registered trademark of The MathWorks, Inc.
MSC NASTRAN is a trademark of MSC Software Corporation
NASTRAN is a registered trademark of the National Aeronautics & Space Administration
Simulink is a registered trademark of The MathWorks, Inc.