News
ASTOS 9 Released!
[2017-10-21] The new major release 9 of the ananylsis, simulation and trajectory optimization software for space applications ASTOS is now available for download.
Release 9.0.0 of ASTOS represents a milestone in the long history of this product. It supports now system concept analysis and comprises complete mission analysis capabilities required for e.g. Earth observation missions, as well as launch and reentry safety analyses.
In contrast to its previous releases, ASTOS 9 is solely 64-bit application and is therefore prepared for large and complex scenarios and computions.
Its Simulink® interface and its detailed models for sensors and actuators that comprise flexible error modelling capabilities let this ASTOS version be prepared for MIL, PIL and even HIL applications. Latter is possible due to a cooperation with dSPACE® and the support of their their SCALEXIO® real-time processing platform inclduing a wide range of interface cards.
Of course, also the latest relase of ASTOS is an ideal tool for trajectory optimization and multi-disciplinary vehicle design.
Simulink is a registered trademark of The Mathworks, Inc.
SCALEXIO is a registered trademark of dSPACE GmbH.
Lunar Exploration Mission Planning
[2017-09-20] After years with focus on Mars, the scientific comunity has rediscovered the Moon as study subject.
Astos Solutions just delivered software to ESA/ESTEC that supports mission planning and the identification of suitable landing sites. Installed on a 65" touch screen table, scientists and enthusiasts have access to an intuative tool that provides high resolution information on local resources (e.g. hydrogen, rare earths and metal abundances), terrain and illumination conditions.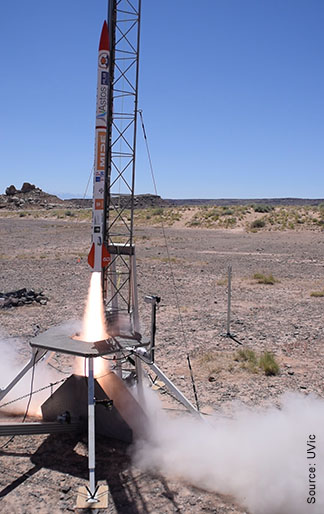 ASTOS Flies High!
[2017-06-02] The 11th annual Intercollegiate Rocket Engineering Competition (IREC) has been held in June 2016 in Green River, Utah. 52 teams presented their rockets and the Amateur Rocket Edition of the ASTOS software has been used by seven of them! Great results for a German software in consideration that all the teams were coming from the American continent.
One of the teams using ASTOS is the UVic Rocketry team at the University of Victoria. They won the Team Sportsmanship award and received an honourable mention in the Space Dynamics Laboratory Payload Challenge. The Rocketry team achieved third place in the Basic category (10000 feet). This summer they will attend the 12th edition, but in the advanced category: aiming at 30000 feet.
More information about the UVic team can be found at https://onlineacademiccommunity.uvic.ca/rocketry/.
More information about the IREC competition can be found at http://www.soundingrocket.org/what-is-irec.html.
ASTOS 8.0.12 released
[2016-09-16] A new minor release of ASTOS 8.0 has been published. It comprises some bugfixes and the following new features:
The tabular aerodynamics provide now the possibility to specify additional damping coefficients that are applied in the body-fixed frame regardless of the frame selected for the other moment coefficients.
Added station aspect angle constraint
Added constraint that evaluates the flight-path angle of a jettisoned assembly at the re-entry gate
ASTOS 8.0.11 released
[2016-09-07] A new minor release of ASTOS 8.0 has been published. It comprises some bugfixes and the following new features:
Replaced variable text fields by drop downs in the Batch Mode Inspector, which provide easier access to existing variables
Added output function CN Alpha Derivative (required for linearization)
When creating a plot in a report, it is now possible to specify colors for Auxiliary Item Groups
Phase 0 Study: NEUTRINO (New Orbital Launch System for Nanosatellites)
[2016-07-19] Astos Solutions has signed a contract with the DLR space agency to perform a phase 0 study about the design of a nano-launcher. The aim of the study is to identify the most cost-effective system that shall place a nanosatellite in a Sun-synchronous orbit.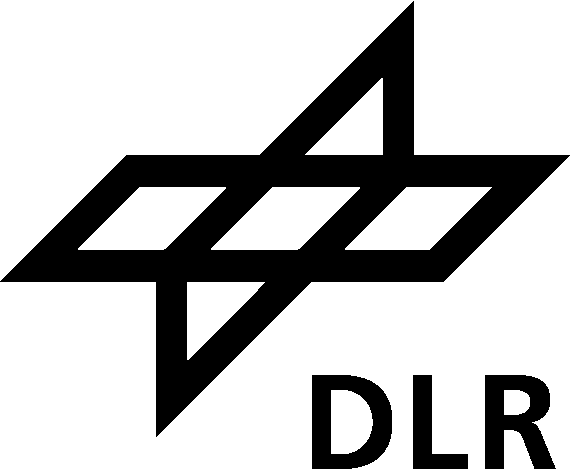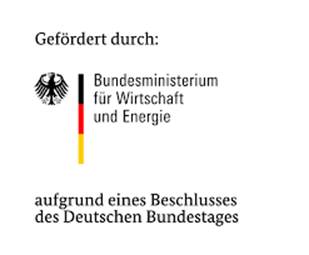 The project focuses on the New Space approach implementing a new launch system. After an overview of the existing technologies available on the market, a launch vehicle design will be performed with the ASTOS software to determine the most cost-efficient launch system. Several technologies and possibilities will be evaluated: air-launch, rail, balloon, launch pad, solid propulsion, hybrid propulsion, liquid propulsion, alternative avionic system, etc.
The activity is in line with the extended application of ASTOS for trajectory optimization, vehicle design and GNC design to the full range of launchers: from heavy-lift Ariane 6 to small amateur rockets.
The project has been commissioned by the DLR with funds from the Federal Ministry of Economics and Technology (BMWi) according to a decision of the German Federal Parliament (No. 50RL1601).
ASTOS 8.0.10 released
[2016-06-16] Due to an urgent user request this maintenance release was created shortly after the previous release. The new features that have been requested are the following:
Orbit propagation with SGP4
Euler angles as user-defined profile in the N-frame
ASTOS 8.0.9 released
[2016-06-14] The ninth maintenance release of ASTOS solves issues with node-locked licenses on Windows 10. It further provides improvements like an extended report template for destructive re-entry analyses including the background of the methodology or the target pointing control law that is now compatible with polar orbits.
ASTOS 8.0.7 released
[2016-04-01] The latest maintenance release of ASTOS 8 introduces several improvements in the coverage and visibility analysis, the plotting and animation capabilities, and the Microsoft Excel export. It further extends the capabilities of ASTOS to simulate flexible multi-body dynamics considering distributed aerodynamics and sloshing.
ESA contract for "Advanced Modelling of Launch Vehicles in Multi-Body Software"
[2016-03-20] ESA signed a technology development contract with Astos Solutions for further development of the multi-body and flexible-body modelling of launch vehicles. The objective is to investigate sources acting on the flexible body of a rocket and to use DCAP and ASTOS for the modelling of the subsystems and flexible dynamics. The focus will be put on analysis of the propulsion subsystem which contributes with oscillating pressure and other effects. Moreover separation process, distributed aerodynamics and propellant sloshing will be investigated. Finally a workflow will be established, which allows the extraction of the structural elastic characteristics.
The activity is embedded in the current efforts expanding ASTOS by a multi-body dynamics feature which will allow the analysis of space missions with manipulator arms and flexible structures in early design phases.
AOCS SCOE for SARah radar satellite
[2016-02-15] Astos Solutions was awarded a contract by OHB System to develop the AOCS SCOE for the SARah radar satellite reconnaissance system of the German Federal Office of Equipment, Information Technology and In-Service Support of the Bundeswehr (BAAINBw). Astos Solutions will be responsible for implementing and qualifying the SCOE (Special Check-Out Equipment) for the AOCS (Attitude and Orbit Control System) subsystem.
The verification of avionics and especially of the AOCS subsystem is a fundamental activity in the flight segment of any space system. The speciality of the SCOE is, that it will be based on off-the-shelf components such as the ASTOS software as SCOE simulator and dSPACE hardware and software for the SCOE controller. The development for two AOCS SCOE will be only 10 month.
DECAN, FAUST and HEROS Launched. Astos Solutions was there!
[2016-02-01] Since few years, Astos Solutions is supporting the STERN projects from DLR: design and launch amateur rockets from university students. Astos Solutions supports several universities:
University of Stuttgart with HyEnD project
TU Berlin
TU Dresden
TU Braunschweig with ERIG
Universität Bremen
The first launch campaign of STERN took place on 22 October 2015 in Esrange (Sweden).
The FAUST rocket from TU Braunschweig performed an almost nominal flight and reached an altitude of almost 6000 meter. More information can be found on the group web-site www.er-ig.de/cms/
The HEROS rocket from the University of Stuttgart performed a nominal start, but than the flight was not nominal. The team is working to solve the problem and they plan to perform a second test in 2016. www.hybrid-triebwerk.de
The DECAN rocket from TU Berlin started the 27 October 2015, nominal flight with maximum altitude of 5500 meter.
For all teams the high-fidelity 6DoF simulations are performed with the ASTOS software. ASTOS is also used to compute continengy scenarios. More information on STERN can be found on www.dlr.de/dlr/desktopdefault.aspx/tabid-10081/151_read-15572/#/gallery/21018 and on the DLR STERN project page.
Second major release of the LOTOS software
[2015-05-29] We are pleased to announce a new major version of the LOTOS software for Windows and Linux!
LOTOS 2 is an advanced tool for trajectory optimization of electric orbit-raising scenarios and hybrid transfers. Within a completely redesigned graphical user interface for full control of user customizable scenarios many features have been packed. Now it is only one click to verify or analyze orbit transfers with electric propulsion. Also new are these key features:
Automatic initial guess generation
Full 6-DoF attitude control
Automatic mission analysis reports
Customizable database with pre-defined entries
Re-optimization of updated trajectories supporting spacecraft operations and autonomous transfers
Several analyses related to transfer performance and spacecraft subsystem aspects
Multi-phase optimization for a new level of refined trajectories
Customizable output
Content sensitive help
Tutorial
Please refer to the
LOTOS 2 product flyer
or to the product website of
LOTOS
.
ASTOS 8 released!
[2015-05-05] A new major version of the ASTOS software has been released!
This new version constitutes a giant step from a sole optimization software to a multi-purpose mission analysis, vehicle design and trajectory optimization software.
ASTOS 8 represents a sophisticated solution for any kind of space flight scenario dedicated to engineers working in
Trajectory and vehicle design optimization
Mission performance and analysis
Satellite communication
Satellite navigation
Preliminary propulsion design
Preliminary structural design of launch vehicles
Guidance, navigation and control
The major improvements and extensions of ASTOS 8 are:
Completely redesigned graphical user interface with full integration of the Model Browser
Graphical vehicle builder
Multi-vehicle capability including also ground stations, points of interest and even complete object catalogues (TLE) and constellations
Various mission analysis features such as:

Navigation analysis
Link budget and visibility analysis
Coverage analysis

Launch safety analysis
Automatic report generation
Detailed launcher design considering stiffening concepts and load cases
Simulink interface for coupled GNC analysis
Flexible dynamics
Integration of the MIDACO ant colony solver
Rocket propulsion analysis
Several new environmental models
Built-in scenario animation including video capturing feature
New plot types
Please refer to the ASTOS 8 product flyer available on our website for
download
.
Astos Solutions participates in the ATV-5 re-entry observation campaign
[2015-01-30] Astos Solutions participates in a multi-instrument airborne campaign to monitor the shallow re-entry of ESA's 5th, and final, Automated Transfer Vehicle over the south Pacific ocean. The goal of this mission is to better understand the physics of the end of life International Space Station de-orbit and the physics of shallow uncontrolled re-entries.
A team from Astos Solutions is currently preparing their instrument on board the NASA DC-8 scientific aircraft in Palmdale, California. The instrument, called CEFIR, is designed to observe the main re-entry object, focussing at fragmentation and explosion events. For the latter the number of created fragments and their induced velocities are of major interest.
More information on CEFIR can be found here.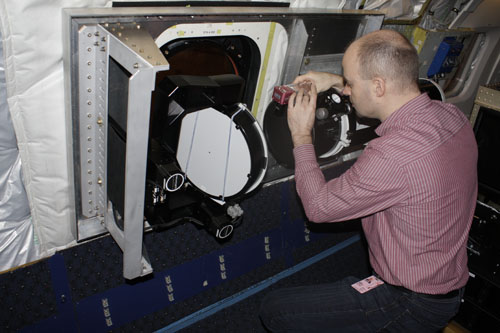 Installation of the CEFIR instrument in the NASA DC-8 scientific aircraft
Astos Solutions supports student projects: MARS18 and STERN
[2013-12-12] Astos Solutions is supporting two important projects in collaboration with the University of Stuttgart and Berlin (TUB). MARS18 is an interdisciplinary effort to design a MARS flyby to be launched in 2018. Several aspects need to be considered and the Astos Solutions software is mandatory for the interplanetary trajectory design and the atmospheric re-entry on Earth. In addition to the software, a dedicated training has been provided to a group of students from the Institute of Space Systems (IRS), University of Stuttgart. The initiator of this initiative is the "Mars Inspiration" group of Dennis Tito, the first space tourist. More information can be found on mars18.de.
STERN is a DLR project that supports the design and launch of amateur rockets from university students. Astos Solutions supports two different groups, one from IRS, University of Stuttgart and one from TUB Berlin. A mixed group of students attended a dedicated training to simulate the ascent and descent of these rockets including parachute and separation events. The high-fidelity 6DoF simulations are performed with the ASTOS software. The launches should take place in 2015 from Esrange in north Sweden under collaboration with SSC. More information can be found on www.dlr.de and www.hybrid-engine-development.de.
ASTOS & GESOP version 7.1.0 released
[2013-01-31, 2013-02-06] GESOP & ASTOS version 7.1.0 have been released for Microsoft Windows, Linux and MacOSX. The newest versions of GESOP and ASTOS provide new and updated NLP solvers:
the WORHP solver has an improved interface (review iteration) and performance
SOS has replaced SOCS as solver for large scale optimization problems (e.g. low thrust transfer), SOS from John Betts is faster and more robust than its predecessor, among others it can constraint the control derivatives.
The major changes in the ASTOS model library are the following:
Interplanetary: "Astronomical_Unit" has been added as distance unit; improved ephemeris models and handling of celestial bodies.
Analysis and Safety: the aspect angle between the vehicle and the ground station has been added as auxiliary function; the splash down constraint value is computed in kilo-meter instead of degree (arc distance); the air-traffic risk data has been updated.
Cost function: Thrust and trajectory_smoothness are added as "max final value" cost function; "Min_Initial_Vacuum_Thrust&;quot; has been added as cost function for the Throat Design Rocket; The Mach number has been added to the Chebychev cost function variable list.
Astos Solutions supports satellite-to-aircraft Laser communication experiments
[2012-12-20] Laser communication between satellites is a well established technique. Using this technique for links between aircrafts and satellites is currently investigated but more problematic due to atmospheric disturbances and the vibration and motion of the aircraft. Mounted on civil experimental aircrafts without special panoramic windows, the viewing angle of the airborne Laser terminal is quiet limited and requires flight manoeuvres synchronized with the orbital motion of the satellite. For a DLR funded research project led by TESAT Spacecom, Astos Solutions developed a mobile pilot assistance system that provides the required flight manoeuvre commands to the pilot. The system is able to calculate the optimal commands in real-time, considering e.g. the internal wind estimation.
ASTOS 7.0.3 released
[2012-07-24] ASTOS 7.0.3 has been released for Microsoft Windows (other platforms will be released soon). The newest version of ASTOS 7 comes with several new features:
Mach number independent aerodynamic bridging function
ESTRACK deep space ground stations (New Norcia, Cebreros and Malargüe), Concrete and Jeju
The leap second for 1st July 2012 has been added
Natural pitch frequency output in the case of 6 DoF simulation
Improved manuals
The new powerful WORHP NLP solver is available as an optional module
Improved mesh refinement in CAMTOS transcription method
SHEFEX II Launch, ASTOS was there!
[2012-07-02] The 22nd June 2012, after a nominal countdown, SHEFEX II has been launched from Andoya (Norway).
Clear sky and wind close to nothing provided the finest launch conditions one can desire. Operations went smooth, telemetry was excellent, GPS, RADAR and IMU data were provided with very good conformance between the sources. 1st stage ascent was flatter than expected, therefore the 2nd stage pointing was corrected accordingly. The ACS worked quick and precise, green for 2nd stage ignition was given at +138s. 2nd stage burn was close to nominal and we hit bullseye with an impact roughly 10km north of Nominal Aiming Point (ground range being 800km!). Experimenters were largely happy. Payload could be detected by airplane, but due to bad visibility not yet pinned on the map. Currently recovery ship is searching with airborne assist and even TerraSAR-X satellite search assist. The hope is to get it back, but chances of course diminish with time.
SHEFEX II during launch (source: DLR)
During the design of the mission ASTOS has been used to optimize the trajectory, but most important an extensive Montecarlo analysis has been processed to determine the impact dispersion of the rocket. The re-pointing algorithm, design by MORABA in collaboration with Astos Solution has been integrated into ASTOS to compensate for first stage errors. This was exactly the case of SHEFEX II.
Mission completed!
More information on this topic can be found on the DLR web site.
A paper about the re-pointing algorithm has been accepted by printing from the AIAA "Journal of Spacecraft and Rockets".
Great feedback at the Airtec 2011 fair
[2011-11-07] A multitude of decision-makers from the international space flight industry visited the booth of Astos Solutions on the Airtec 2011. In unison they evaluated our mission analysis software ASTOS as a very powerful product. Also Peter Hinze, MdB, Parliamentary State Secretary at the Ministry of Economy and Technology, Federal Government of Germany and Coordinator of Aerospace enjoyed the high quality 3D visualisation of ASTOS.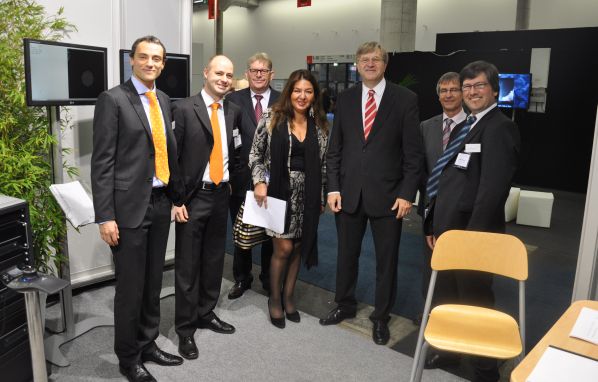 Peter Hinze (3rd from right), MdB, Parliamentary State Secretary at the Ministry of Economy and Technology, Federal Government of Germany and Coordinator of Aerospace visiting the booth of Astos Solutions on the Airtec 2011
Astos Solutions Office in Stuttgart gets DGNB Certification in Gold
[2011-09-30] The "Deutsche Gesellschaft für Nachhaltiges Bauen" (DGNB, German Sustainable Building Council) granted their Gold level certificate to the building in which our office in Stuttgart is located. On the basis of 60 criteria and depending on the usage profile the DGNB auditors judge the candidates. Ecological, economic, sociocultural, functional and several technical aspects belong to the criteria.
GESOP 7.0.0 released
[2011-08-22] Release 7.0.0 of our generic optimization and simulation suite GESOP has been published for Microsoft Windows. Compared to the last release 6.1.1 GESOP 7.0.0 comprises the following changes:
The ASCII format for input and output files is now XML (replacing Viola)
Batch Mode and Result Summary can be initiated from command line now
New client/server interface between GUI and GESOP engine (preparation for multi-hosted simulations)
New "If" element of the Batch Mode Inspector allows conditional batch processing and branches
Added feature to print all the tabs of the Viewer by one action
Automatic mesh refinement of CAMTOS can add also path constraint nodes now
ASTOS 7.0.2 released
[2011-08-05] ASTOS is now available for Apple Mac OSX, Microsoft Windows and also Linux. Remarkable changes of release 7.0.2 are:
Connection setting of real parameters can be automatically changed in all phases.
CAMTOS collocation will add also path constraint check points during mesh refinement.
Added warning in case of missing path constraint check points.
Added output of Hessian matrix density.
License manager updated to Flexlm version 11.9
Gesop server works now also on low performance single core computers.
Improved Solid design booster model (units, normalized time, multiplicity different from 2).
Filling ratio for linear and dual propellant design stages.
Complex scaling for cost functions.
Mars Climate Database atmosphere model, see Section 9.2.9 for more information.
Improved mass estimation relation (MER).
Inertia moments profile (e.g. function of time) for 6DOF.
Load factor constraint include thrust and aerodynamics accelerations.
Improved model parameter delta constraint to use multipliers.
Auxiliary states also for orbital equation of motion.
Mean anomaly (not only true anomaly) as orbital initial state.
Kinetic energy threshold for fatality index computation (RAM).
New extrapolation method (Nearest_Value) to avoid risks during extrapolation.
Initial attitude (Rotation) as local Euler angle rates.
Unused stages can be present in Model Browser without raising errors.
Thrust angle model also for Y axis, moments added.
Bridging function for aerodynamics coefficients.
Uncertainty tables for aerodynamics and standard atmosphere.
VEGA advanced test case in conventional launcher examples.
Auxiliary functions for Euler angle, relative velocity and position in FL frame, launch-pad inertial frame.
Pointing maneuver for Euler angle in L frame.
Longitude of ascending node as max final/initial value in cost function.
New telephone numbers
[2010-10-22] The telephone numbers of our office in Stuttgart have changed. The new number is +49-711-892633-XX. The two-digits extensions stay the same. This change accompanies a migration to Voice-over-IP technology.
ASTOS 7.0.1 released
[2010-10-05] ASTOS is now available for Apple Mac OSX, Microsoft Windows and also Linux. Remarkable changes of release 7.0.1 are:
new Batch Mode element "condition" that allows conditional processing of following batch elements (like an "if" statement)
new steering loss state
updated model database to XML format
new re-enry safety assessment for air traffic, ship traffic and oil rigs (optional module)
bugfix of gravity loss calculation
new group of ground stations for Ariane (GTO)
new axial, normal and lateral load factor constraints
ASTOS 7.0.0 released
[2010-05-01] A new major version of ASTOS has been released. Version 7.0.0 is available for Apple's MacOSX and Microsoft Windows. The Linux version will be released in the next two weeks.
The model configuration of ASTOS 7 is based on XML and not on VIOLA anymore. Automatic conversion tools will support our users two migrate to ASTOS 7. With this step we accommodate the widespread usage of XML while the interoperability with other tools is improved. Its new detailed design optimization and 6-dof simulation capabilities are the most noticeable new features of ASTOS 7.
Astos Solutions supports the Clotho Project
[2010-03-01] ASTOS simulates the trajectory of an experimental rocket: the Clotho Project. Under the supervision of Mavericks Civilian Space Foundation, the required nominal trajectory and dispersion analysis has been performed to file the FAA Class 3 weaver.
The question was:
Can a SONY VAIO laptop launch a rocket?
Of course, with the right software on it!
ASTOS 6.1.2 released
[2009-12-18]
ASTOS 6.1.2 has been released. ASTOS has now further features to simulate and optimize sounding rockets, e.g. models for the Yo-Yo effect and also for spin motors. Other remarkable changes are:
inertial navigation controller (set at launchpad)
one new test case (sounding rocket)
geodetic constraints and auxiliary functions (heading, yaw)
new air-path auxiliary functions
ASTOS 6.1.1 and GESOP 6.1.1 released
[2009-11-09]
ASTOS 6.1.1 and GESOP 6.1.1 has been released. ASTOS can now simulate and optimize the trajectory of sounding rockets. Other remarkable changes are:
an improved import of text files
additional test cases
more auxiliary functions
improved documentation
new constraints
ASTOS 6.1.0 released
[2009-07-17]
ASTOS 6.1.0 has been released. New features like an automatic mesh refinement for control grids are marking this new version of ASTOS. Other remarkable changes are:
3D plot
improved Batch Mode functionality
derivative check for CAMTOS
improved memory management
improved error messages
Astos Solutions Wins ESA Tender for Concurrent Design Optimization
[2008-12-01]
Astos Solutions GmbH has been selected as prime contractor for the ESA project: "Mathematical Optimisation Methods for Concurrent Early Design of Trajectory, Propulsion and Aerothermodynamics". This contract is just the icing on the cake of the several-year experience of Astos Solutions in the field of concurrent design optimization as support to ESTEC. The 10 months contract will highly improve the concurrent design optimization capability of ASTOS (AeroSpace Trajectory Optimisation and Simulation) in the fields of propulsion, aerodynamics, TPS and structure. Moreover these improvements will be inserted in the new release of ASTOS.
Stuttgart Aerospace Day 2008
[2008-11-21] The business development section of the city of Stuttgart sent out invitations to the Stuttgart Aerospace Day 2008 that took place at the Stuttgart Engineering Park (STEP). Some of the LRBW members and LRBW coordinator Anita Vogl were among the guests. Stuttgart as a location for aerospace industry and the activities of the aerospace and geodesy school of the University of Stuttgart were the topics of the day.
STEP will open the new house of aerospace on January 1st 2009. Three companies to be located there gave presentations: Astos Solutions GmbH and furthermore TimeTech GmbH, a developer of precise time measurement systems, and Dassault Systems AG, a company famous for their 3D simulation and development software.
New Office in Stuttgart
[2008-11-20] With the new year 2009 Astos Solutions' office in Stuttgart will move into a new building. The new office is located in the Aerospace Center of Stuttgart, Meitnerstrasse 10, which is part of the Stuttgarter Engineering Park (STEP). It is not far away from our old office in Nobelstrasse 15.
The new office provides best infrastructure: meeting and conference rooms for up to 650 persons, less than 500m to highway and S-train station with direct link to city and airport, in the vicinity of the University of Stuttgart, the Fraunhofer institute and DLR. Due to the fast growth of our company the old office in Stuttgart became too small.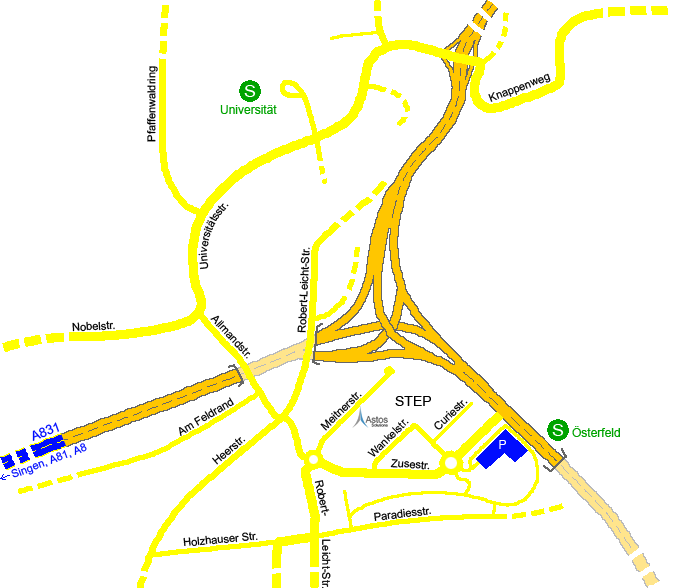 GESOP 6.0.0 released
[2008-11-04]
After ASTOS 6.0.0 also GESOP 6.0.0 has been released. Now also non-aerospace users may benefit from the new features of the redesigned graphical user interface. Enhanced plotting capabilities, batch processing for Monte-Carlo analyses and many improvements of the optimization and simulation core distinguish from GESOP 6 and the past releases.
ASTOS 6.0.0 released
[2008-10-08]
The release 6.0.0 is marking a milestone in the development of ASTOS. A completely redesigned graphical user interface and many new features decorate this release.
Development of Innovative Electric Propulsion Technologies
[2008-10-01]
Astos Solutions has been selected as partner in the Hiper (High Power Electric propulsion: a Roadmap for the future) project funded by the European Commission under Framework Programme 7 (FP7). HiPER is a 3-year collaborative research programme led by Alta (Pisa) and run by 20 partners from six EU countries, including seven SMEs, four large companies, three universities, four research centers and two governmental organisations. It will initiate technological and programmatic consolidation in the development of innovative electric propulsion technologies and related power generation systems to fulfill future European space transportation needs, with activities ranging from Hall, gridded ion and MPD thruster improvement, to advanced solar power generation and nuclear power sources for spacecraft. Astos Solutions is responsible for the trajectory optimization.
Astos Solutions Flies to the Moon
[2008-06-08]
Astos Solutions has been selected for the trajectory computation in the phase A of the Lunar Exploration Orbiter (LEO) project. After the computation performed during a Phase 0 study, Astos Solutions has reinforced its collaboration with EADS-Astrium (prime) in a DLR (German Aerospace Agency) project. Astos Solutions is responsible for the launcher selection, the Earth-to-Moon transfer and injection as well as for a Monte-Carlo analysis of the stability of the selected lunar orbits.
Astos Solutions Participates in the ASTEX Mission
[2007-11-05]
Astos Solutions is responsible for the selection, design and analysis of the optimal trajectories for the transfer arcs of the ASTEX mission. ASTEX is a feasibility study about a scientific exploration mission to conduct a NEA double rendezvous mission, commissioned by the German aerospace organization DLR. Astos Solutions will collaborate with the Max-Planck Institute for Solar System Research (prime). The main tasks performed are:
The creation of an asteroid database containing information like orbital and physical properties of the asteroids and delta-v to rendezvous with an asteroid.
Identification of possible missions of two target asteroids under consideration of spacecraft constraints (e.g. propellant mass).
Computation of the necessary delta-v for the complete transfer.
Detailed feasibility analysis of the finally selected missions.
Inspection of orbits at the asteroids (orbit around small bodies).
TTI GmbH, TGZ Astos Solutions becomes Astos Solutions GmbH
[2006-10-01]
In the last years optimization techniques became more and more popular and the demand for optimization software and services has gained since new fields of application could be found. Due to the growing market the TTI department Astos Solutions has been hived off and a new company named Astos Solutions has been founded. Astos Solutions will overtake sales, support and development of ASTOS and GESOP. The development and support team of TTI is taken over, so that know-how and experience are preserved and coevally boosted by new team members.
© 2018 Astos Solutions GmbH - Legal Disclaimer - Privacy Policy